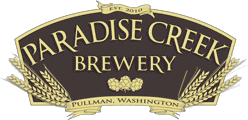 In early 2010, Paradise Creek Brewery was born in Pullman's Old Post Office building. Their ales & lagers are crafted in the basement with some of the finest malts and Yakima hops they can get their hands on. From the fan-favorite Pokerface Blonde to the hop-bomb Over The Hop to their creamy and roasty Sacred Cow Milk Stout, the variety of seasonal and perennial ales flowing from their taps will make the most demanding beer lover squeal.
Paradise Creek started with one goal in mind: to locally craft exceptional beer and share it with friends, which is why they brew all of their beers 100% in Pullman, Washington. On any given day of the week you can smell the sweet aroma of their brewing process throughout downtown Pullman. Their hops are sourced directly from Yakima, where the majority of the United States hops crops are grown. This maintains the fresh taste of all their brews and boosts the flavor in their IPAs.
You're not going to want to miss this event! So, swing by Enoteca's Drinkery and Refuge this Thursday beginning at 5p.m. and help us welcome Paradise Creek Brewery to Post Falls and Enoteca! Paradise Creek owner Tom will be on hand to discuss his brewery and line-up.
Here are some of the Paradise Creek brews we will be featuring this Thursday:
Huckleberry Pucker Sour

Hop Hammer I.P.A.

Pokerface Blonde

Postal Porter

Sacred Cow Milk Stout
And stick around because as we all know, our popular trivia begins at 7p.m.!
Starting at 
7pm on Thursday
 we have our fantastic, fun, informative and prize-winning 
Trivia Night
!
Form a team and come on down to win!
 Did you know you can jump in for a round if you aren't able to get here by 7? Who knows, maybe you'll win! If you don't have a team, come on down by your smart self and we will help you join a team. There are always friendly people who want more minds on their team.
Upcoming Event & Reminders
You can always see what's coming up at Enoteca by seeing the calendar on our left sidebar on our Events page.
 Weekly Events:
Sundays
: It's 
BLOODY SUNDAY
! Stop by and cure your ailments with this special Bloody Mary Concoction. Bloody Mary Deals from Opening to Closing Noon-5p.m. every Sunday. Dont forget to fill your growlers for the big game. Look for Growler specials on Sunday's too!  
Mondays
: Its's 
MEMBER MONDAY!!!
 Enoteca Beer and Wine Club members enjoy a BOGO on all cocktails, pints and glasses of wine! It pays to be a member!  
Tuesdays:
SERVICE INDUSTRY NIGHT
. Tuesdays are our chance to tip our hats to those of you in the service industry! Stop by Enoteca's Drinkery and Refuge for weekly specials on cocktails, and pints of your favorite brew!
Wednesdays:
 Only here at 
Enoteca
 is 
WHISKEY WEDNESDAY
 WAY MORE than you typical Whiskey Wednesday. We threw all of our Scotches, and Bourbons in the hat too! So stop by Enoteca's Drinkery and Refuge for half priced Whiskey, Bourbon and Scotch every Wednesday. It's our way of giving thanks to all our loyal Patrons!
Thursdays
: Every Thursday you are cordially invited to bring your team of brains to the Drinkery and Refuge for your chance to compete in our 
TRIVIA NIGHT
! We offer some really cool prizes too. 
The trivia begins at 7p.m., but get here at 5p.m. and try some tasty brews from some of the Northwest's Favorite Breweries every Thursday
!
Saturdays: We pay tribute to the ladies each and every Saturday with LADIES NIGHT! Gals, bring your friends and have a drink, and get your next one on the house!