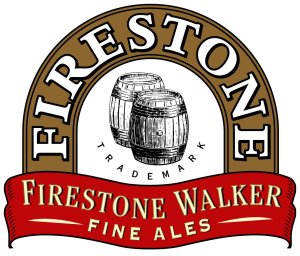 Lions, Bears & Beer…
Founded in 1996 by Adam Firestone (aka the Bear) & David Walker (aka the Lion), Firestone Walker Brewing Company began as a small brewery with roots in wine country on California's Central Coast. Now a regional brewery, their singular purpose remains – to craft ever better beer.  Passionately in pursuit of the perfect beer…and never satisfied.

It began innocently enough: a couple of brothers-in-law sitting around debating the subject of good and bad beer. Instead, their search for a decent ale led them to brew their own. Given Mr. Firestone's winemaking bias and Mr. Walker's complete lack of fermentation experience, they believed 60-gallon oak barrels were the appropriate vehicle in which to create their perfect elixir.
OK, so initial attempts were forgettable. But like so many great ideas, out of that disaster was born a handy invention – the Firestone Union. Based on classic brewing traditions from Burton-Upon Trent, this bizarre and unlikely system of linked barrels has the ability to produce rich and complex ales. In 1996 the accidental duo shelved their endless discussion on better beers and settled for building a world-class brewery that bore their names on California's Central Coast……the debate was now over. 
Please join us all month long to celebrate Firestone Walker Brewing Company. We will be offering pint and flight specials from Firestone Walker for the month of September. Each Firestone flight and pint purchase you make will get you entered into a drawing for some fantastic prizes from Firestone Walker during our

BIG PARTY THURSDAY SEPTEMBER 18TH!

The party begins at 5p.m.! 
Starting at 
7pm on Thursday
 we have our fantastic, fun, informative and prize-winning 
Trivia Night
!
Form a team and come on down to win!
 Did you know you can jump in for a round if you aren't able to get here by 7? Who knows, maybe you'll win! If you don't have a team, come on down by your smart self and we will help you join a team. There are always friendly people who want more minds on their team.
Upcoming Event & Reminders
You can always see what's coming up at Enoteca by seeing the calendar on our left sidebar on our Events page.
 Thu. Sept. 4th: Kick-off for Sirestone Walker Brewing Company Month. Come get you flight and pints! Stick around for trivia starting at 7 p.m. too!

Fri. Sept. 5th: Joins us for a unique wine flight every Friday. This week we will be highlighting our Wine Club Selections!

Sat. Sept. 6th: It's ladies night! Gals, bring your lady friends and you each will enjoy BOGO free on all cocktails, draft beer, and glasses of wine!
Sun.  Sept. 7th: Want to get away and watch the game and have a crafty Bloody Mary? Well, Enoteca is open from 3pm-8pm every Sunday!
Mon. Sept. 8th: Member Monday! All of our Beer and Wine Club Members receive a BOGO free. Ask your bartender how to join!

Weekly Events:
Sundays
: It's 
BLOODY SUNDAY
! Stop by and cure your ailments with this special Bloody Mary Concoction. Bloody Mary Deals from Opening to Closing Noon-5p.m. every Sunday. Dont forget to fill your growlers for the big game. Look for Growler specials on Sunday's too!
Mondays
: Its's 
MEMBER MONDAY!!!
 Enoteca Beer and Wine Club members enjoy a BOGO on all cocktails, pints and glasses of wine! It pays to be a member!
Tuesdays:
SERVICE INDUSTRY NIGHT
. Tuesdays are our chance to tip our hats to those of you in the service industry! Stop by Enoteca's Drinkery and Refuge for weekly specials on cocktails, and pints of your favorite brew!
Wednesdays: Only here at Enoteca is WHISKEY WEDNESDAY WAY MORE than you typical Whiskey Wednesday. We threw all of our Scotches, and Bourbons in the hat too! So stop by Enoteca's Drinkery and Refuge for half priced Whiskey, Bourbon and Scotch every Wednesday. It's our way of giving thanks to all our loyal Patrons!
Thursdays: Every Thursday you are cordially invited to bring your team of brains to the Drinkery and Refuge for your chance to compete in our TRIVIA NIGHT! We offer some really cool prizes too. The trivia begins at 7p.m., but get here at 5p.m. and try some tasty brews from some of the Northwest's Favorite Breweries every Thursday!
Saturdays: We pay tribute to the ladies each and every Saturday with LADIES NIGHT! Gals, bring your friends and have a drink, and get your next one on the house!
Enoteca Drinkery & Refuge is a full service bar featuring 11 rotating craft beer only tap handles, a snazzy wine list and wine flights, an up scale Bourbon & Scotch list, and hand crafted fresh & flavorful cocktails. We are Food Friendly, which means you can bring your own food, including ordering from any of the 5 neighboring restaurants!